Is your team ready for the hybrid workplace? Make sure to add these tools to your tech stack and stay ahead of the collaboration curve.
---
2021 is the year of the hybrid workplace, where "how to use Zoom video conference" became one of the top searches.
How did we get here? No one could have predicted that remote work would one day become a life-saving endeavor in 2020–but that's exactly what happened. Office workers around the world traded their 45-minute highway commutes for 30-second strolls down the hallway. Slacks and skirts were exchanged for sweatpants, and packed lunches became a thing of the past.
Now, in 2021, offices are slowly reopening to their employees — and don't want to lose some of the key advantages of remote work. Namely, that employees can be more productive and companies can save on rent while keeping employees happier with flexible work arrangements.
Most office workers believe that this blend of in-office and remote work is a highly positive change: according to one 2021 study, 82 percent of employees believe that the benefits of a hybrid workplace model outweigh the cons.
So how does your company preserve the benefits of remote work while still reopening the office? It takes a bit of planning — and some technology — to maintain your company's culture of productivity in the hybrid workplace.
Here are 5 must-have tools for the hybrid workplace.
#1: Hybrid physical and digital meeting spaces
Conference rooms enabled with Zoom and/or Teams allow teams to collaborate smoothly and easily, no matter where colleagues are located. That's increasingly important in a workplace where location is no longer a constant.
It's a space that combines software and hardware to transform physical meeting rooms into fully functional video conferencing spaces equipped with high-quality audio and video specifications.
How does this work? Zoom's cloud-based meeting technology is designed to connect directly with SIP or H.323 room systems. Through a centralized point of management, in-office conference rooms can communicate with users of Zoom's desktop, tablet, and mobile applications, as well as other SIP or H.323 endpoints.
While Zoom Rooms are one of the most popular options for hybrid workplace conferences, there are other options for hybrid digital and physical conferencing. When you're choosing a hybrid virtual meeting platform, there are a few important things to keep in mind:
Capacity: how many connections can the meeting room support? Can more than one meeting be held at the same time?
User controls: Does the virtual meeting space offer tools for moderation?
Security & privacy: How are these virtual meeting spaces kept private? Is the data exchanged in these spaces encrypted?
Ease-of-use: Can you use the platform to hop on a call at a moment's notice?
#2: 100% virtual meeting rooms
Perhaps the most important part of any hybrid workspace is the place where employees meet and communicate with each other. While much can be accomplished through text messages, text-based chat rooms, and emails, nothing beats face-to-face communication.
If in-person meet ups are not possible or practical, virtual meeting rooms are the next best thing–and hey, check out the perks! Having a strong and reliable virtual meeting place gives companies the opportunity to connect with a wider pool of talent and potential clients.
While Zoom, Google Hangouts, and Microsoft Teams certainly gained plenty of new users throughout 2020, these aren't the only options on the market.
In fact, while these services are popular, there are other platforms that offer features that may work better for your business.
You could try Whereby, for example, which is an alternative to the main players and gives you a different interface and overall experience. There are also plenty of remote collaboration tools that can bring your team together for creative work (we love Mural!).
#3: Interactive whiteboards
Collaboration changes a bit when teams aren't always face-to-face. We all learned this the hard way during the great Pandemic Remote Work experiment. Now, as we return to the office, we need new tools to work collaboratively amongst distributed teams.
"All in one" products like the Neat Board are specifically designed to enhance the hybrid workspace experience. The Neat Board is essentially a multi-touch smart screen that dynamically reacts to the needs of physical and virtual meeting attendees.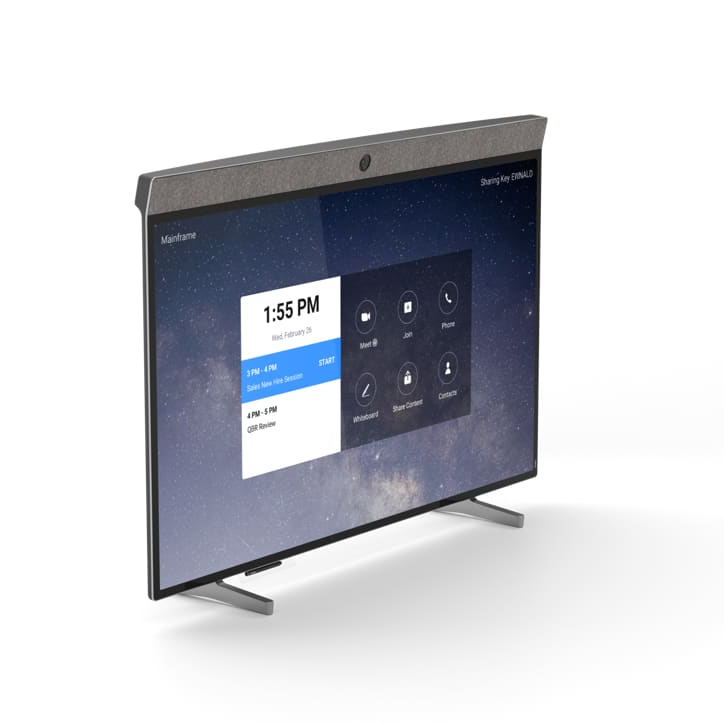 The Neat Board allows participants to wirelessly share screens, start meetings, or collectively mark up documents. It can also be used to make notes and provide visual feedback in real-time for participants in the room and on the web.
While the Neat Board is designed to connect seamlessly with Zoom Room software, there are other smartboards on the market that may be better suited to your company's particular set of needs. Neat also offers customizable options for their smartboard products.
Not into Neat? Here are some other "all-in-one" AV solutions.
#4: Virtual receptionists
Because hybrid workplace models allow employees to work from afar, it may not make sense to hire a receptionist to come into the office every day to answer phone calls and greet visitors. However, receptionists play a vital role in the operations of many companies–they are the entry point into communicating with employees, scheduling meetings, and much more.
So what about a virtual receptionist?
It's a lot like a traditional receptionist: a trained, high-quality customer service professional that handles administrative tasks on-demand. Often, virtual receptionists work for multiple companies at once. This gives companies access to a scalable, on-demand administrative solution. Usually, companies only pay for the time that the receptionist spends working on their behalf.
Or, if you wanted to distribute the receptionist work across the company, you could try Zoom's virtual receptionist, which integrates seamlessly with Zoom software and allows visitors to contact someone for help. So, if your company has Zoom-enabled conference rooms and huddle rooms, it may make sense to invest in a permanent virtual solution that can manage tasks like checking in visitors to your office.
#5: At-home firewalls and Virtual Private Networks (VPNs)
One of the biggest challenges associated with hybrid workplace culture is internet security. When a company's business is conducted within a singular physical space, internet security is a simple matter: there just is one (or perhaps several) networks to protect. A company-operated firewall and VPN is usually enough to get the job done.
However, in a hybrid workplace model, there are many networks that need protection. Each employee's home network is a possible point of vulnerability. Therefore, ensuring that each employee has the software that they need to keep company data safe is vital.
Firewalls will protect home networks from possible interference, while VPNs will protect company data as it travels across the world wide web. If protecting your company's data is a matter of particularly high priority, consider consulting with a security expert who can provide you with a comprehensive security strategy for your hybrid workplace.
And let's not forget: AV solutions for hybrid work!
Switching from non-remote or completely remote work into a hybrid workspace model can be a challenge. However, with the right tools, hybrid workspaces can be the best of both worlds: flexibility and scalability with the benefit of in-person connection and collaboration.
---
InGenius Solutions' team of professional integrators will create the perfect AV solutions for your team's effortless communication and collaboration. Schedule a consultation today!